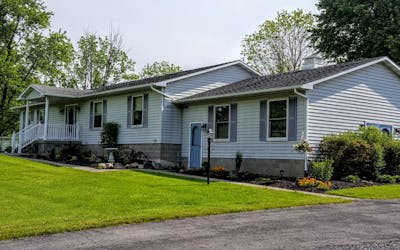 Pathway Home of the Finger Lakes
1529 State Route 414
Seneca Falls, NY 13148
Visit Website
Pathway Home of the Finger Lakes
In 2009 a group of individuals came together to discuss the need for a comfort care home in Seneca County. Several of them were Seneca County residents who worked in hospice programs and had seen the need for this service first hand. Pathway Home was developed based on other comfort care home models currently operating in the Finger Lakes.
In October 2015 a home was purchased in the town of Tyre on State Route 414. Some renovations were completed and the home received its certificate of occupancy in October 2016. Pathway Home accepted its first resident on Feb. 28, 2017.
Pathway Home provides quality care to the dying, meeting their physical, social and spiritual needs in a supportive home environment, while respecting their individuality and maintaining their dignity in their final days. Admission is based solely on need without regard to their age, gender, race or spiritual beliefs.