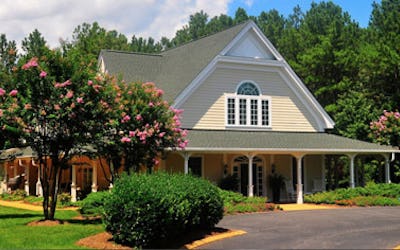 Hospice House of Williamsburg
4445 Powhatan Parkway
Williamsburg, VA 23185
Visit Website
Hospice House of Williamsburg
In 1982, "Hospice of Williamsburg" was founded as a nonprofit charitable organization compassionate citizens and generous professional volunteers to enhance the quality of living for individuals facing the last phases of life and to support the people they love. 
In July 2002, the 4-bed Hospice House opened its doors, created as a "home away from home" to provide short-term residential care for end of life support. Hospice House was built following a community-wide capital campaign that raised more than $1 million and garnered commitments of significant in-kind support from area contractors and suppliers.
Today, we offer our services to individuals in the Historic Triangle and throughout the tidewater area. We work in close cooperation with local healthcare providers to assure patients and families receive needed services. And we welcome all people to the House. We don't discriminate on the basis of race, ethnicity, gender, religion, sexual orientation, or income.
All services are free of charge thanks to the generous support of individuals, businesses, municipalities, civic groups, religious organizations, and charitable foundations.